When I was younger, I wouldn't have dreamed of carrying a novelty bag or purse--vintage or otherwise. Too worried about standing out from the crowd, about what people might think, and so on. But as I get older, I find that being "different" is fun, and carrying a novelty handbag or purse is a great way to indulge oneself. It also tends to make other people smile and laugh--what could be better?
Although novelty bags have been around for decades, they really took off in the 1950s, as women began to wear brighter apparel and more "fun" styles, such as novelty-print circle skirts and dresses and mix 'n match coordinates that lent themselves to a variety of accessorization. Today the manufacture of novelty bags is a big industry. But that hasn't diminished, and has likely enhanced, the allure of the original, vintage ones, which are still hugely popular. We, of course, prefer the vintage ones and find them so interesting! They come in a limitless array of shapes, sizes, materials, etc.: Enid Collins box purses, the magazine-tube bags of the 60s, handmade cigar-box purses, elegant Judith Leiber clamshell purses, Jolles Originals' beaded or plastic-covered bags, scenic purses, kitcshy tourist wicker purses, telephone-wire bags, cartoon-character totes.... So many bags, so little storage space. So, many of them find their way to the sales "floor," to be discovered and loved by yet another vintie.
Summer seems to be the very best season for novelty bags--they are fun and lighthearted, perfect for vacations and beach or patio parties. You'll see them on the boardwalks of your favorite oceanside resort, or out to lunch at the local al-fresco dining establishment. Here are some fun bags we have to share with you:
The Atlas Princess Charming line of coated-wicker purses, such as the one below, typically featured underwater scenes with shells, starfish, and seahorses under a plastic window, along with Lucite handles.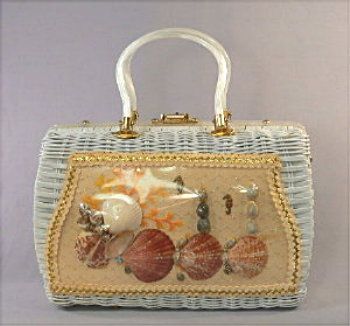 Recently sold from Vintage Baubles:
1950's/60's White Wicker Purse with Seashells
Basket purses are always fun and popular as well, such as this 50's/60's picnic-style one, complete with double-hinged lid!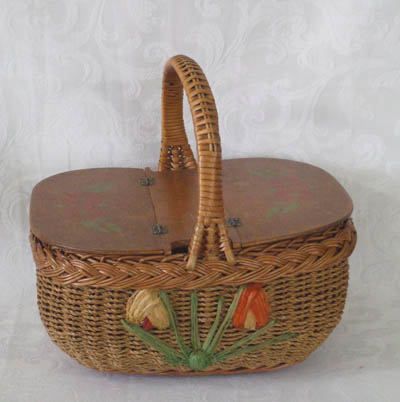 Offered at Alley Cats Attic:
Picnic Basket Purse
Here's a most unusual early 50's bag with an avian-themed scene set inside a "picture frame":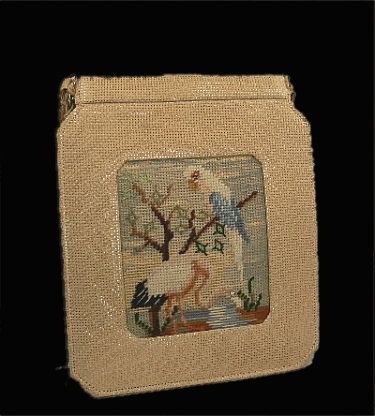 Offered at Vintage Baubles Too:
But, summer's not the only time of year you can get to carry a great novelty bag. This 50's/60's Jolles Originals purse, sold from A & J Esoterica, features a fall/winter scene done in wool felt and glass beads: