I'm guessing most readers here have never heard of California apparel designer Irene Saltern. Which is, and you'll agree once you know more about her, very surprising, considering she is widely credited as a pioneer of the California sportswear industry. Other designers who were her contemporaries are more well known, but Ms. Saltern's influence cannot be denied.
Her story is incredibly interesting; she was a true Renaissance woman. She was born Irene Stern in 1911, in Germany. A multi-talented individual, she worked for a short time as a radio journalist and, later, became a seamstress.
Among her neighbors while she was still living in Germany was Albert Einstein, who taught her to sail. Instilled with a lifelong love of sailing, many of her designs were nautical themed. She took fashion classes in Berlin, and when she moved to California with husband Harry Salinger in the late 30s, she became a costume designer for the movies. In the 40s, she was in charge of actresses' wardrobes at Samuel Goldwyn Pictures, and was a contemporary of Gilbert Adrian, who was at Metro-Goldwyn-Mayer. The Sept. 14, 1995, issue of the
LA Times
quotes her as saying, "If [Gilbert] Adrian was the king of designers, I was one of the princesses." She did the costumes for nearly 40 Hollywood films, including
The Call of the Yukon
and
The Howards of Virginia
. She was the favorite designer of dancer Ann Miller and actress Martha Scott.
In the late 40s, Ms. Salinger started designing commercially as "Irene Saltern," and became head designer for Tabak of California, one of the powerhouses of the "California Sportswear Revolution." The influence of Irene Saltern and Lou Tabak on the burgeoning industry was profound. Ms. Saltern designed lines of separates and coordinates

—

jackets, skirts, cigarette slacks, shorts, tops

—

that were sold with hangtags proclaiming they were "a Tabak Tie-in." She also designed classic dresses and suits, with lines that flattered the female figure. Her designs can be worn today and present as stylishly as they did decades ago.
And the fabrics she used, particularly her wools and silks, and the workmanship are exquisite.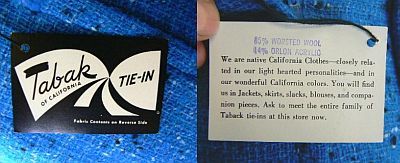 In addition to working for Tabak, she briefly headed up her own firm, Irene Saltern of California, and worked for other design houses, including Phil Rose and Lanz of California, from which she retired in 1978. In the 60s, she was noted for starting the trend of those big hardware-inspired chunky belts, after a visit to the hardware store! And, after a trip to India, she started creating Indian-inspired designs, which, of course, were
huge
in the 1960s and 1970s.


Ms. Saltern passed away in 2005 at the age of 94. Her sketches are preserved at the Academy of Motion Picture Arts & Sciences, and both her apparel and sketches are featured in the collections of the Fashion Institute of Technology and the Los Angeles County Museum.

The Reflections of Vintage team pays tribute this week to this unsung pioneer and to the amazing California designers who came after her.
Saltern of California Full-Skirt Butterfly Dress, sold by Vintage Baubles: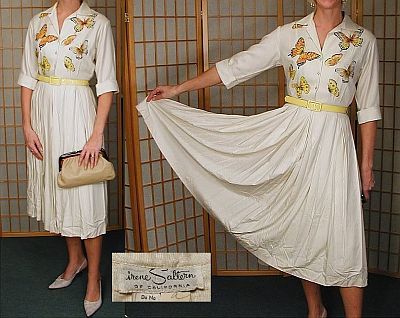 Cute Vintage 1960s Pink Wool Knit 3 Piece Outfit Tabak B34 W25
from
After Dark Vintage
: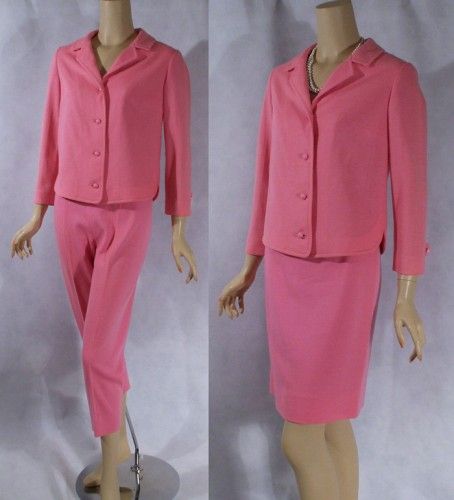 Vintage 80s Does 40s California Designer Karen Alexander Tropical Caribbean Vacation Novelty Print Sunshine Yellow Day Shirt Dress - Size XS to S
, from
Catseye Vintage
: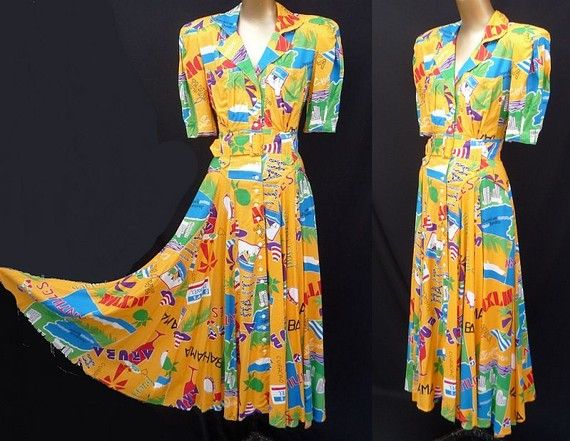 Vintage 50s 60s Tabak of California Mad Men Blue Wool Pencil Skirt Suit, XS Sm
, from
Vintage Baubles Too
: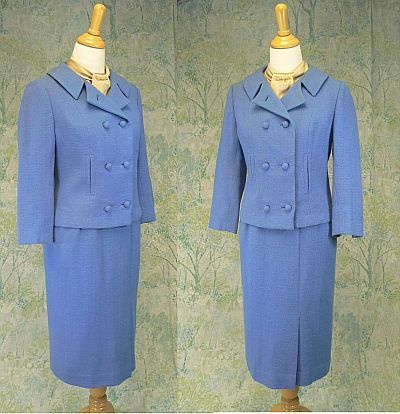 Vintage 80s Does 40s California Designer Foxy Lady Nautical Black and White Day Shirt Dress - Size XS
, from
Catseye Vintage
: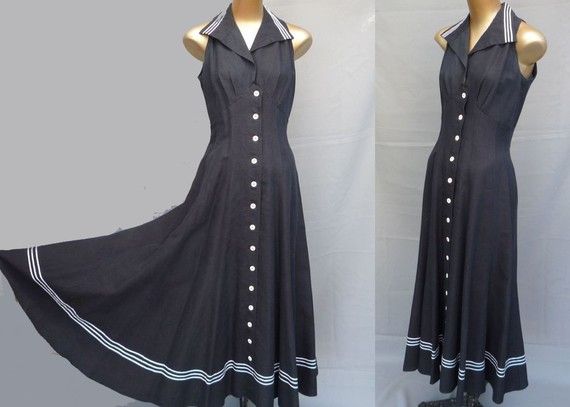 Vintage Taupe Silk Tabak Blouse Sz 10 B38
from
After Dark Vintage
: