Joan Crawford was one of the biggest stars in Hollywood from the time of her film debut in the silent movies of the 1920s through the 1970s and was well known for both her luminous talent as an actress and iconic style.
She was born as Lucille LeSueur on March 23, 1905 or 1906 in San Antonio, Texas and died on May 10, 1977 in New York City.
"Lucille LeSuer" began her 45 year film career with a six month contract with MGM studios in January 1925. In March of that year, MGM ran a magazine contest to find her a new name - "Joan Crawford" was the winner and her film debut under the Crawford name was in "Old Clothes" with child star Jackie Coogan in November 1925.

Joan went on to appear with the famous male stars of the day, including George K. Arthur, Harry Langdon, Charles Ray, Tim McCoy, John Gilbert, William Haines, and Lon Chaney. Her breakthrough role was in September of 1928 in her portrayal of "Diana" in "Our Dancing Daughters" and Joan became a bona fide star.

With her marvelous voice, Joan easily made the transition to talking pictures in 1929 continuing to star in many films in the early 30s, including Grand Hotel, Letty Lynton, and Rain.

From 1933 through 1936, MGM featured Joan in a series of glossy pictures where she wore stunning Adrian-designed gowns, including Dancing Lady (1933); Sadie McKee (1934); Chained (1934) Forsaking All Others (1934); No More Ladies (1935) and Love on the Run (1936).

Joan was named "Queen of the Movies" by Life Magazine in 1937.

Joan starred in many other movies in the late 1930s before leaving MGM studios in 1943.

Joan signed on with Warner Brothers Studios within a few days of leaving MGM.

In 1945 she was awarded the Academy Award for her starring role in the 1944 film Mildred Pierce. Joan also received (but did not win) an Academy Award nomination for her role in Processed (1947).

Joan continued to star in films throughout the 1940s and early 1950s, including Humoresque (1946); Possessed (1947); Daisy Kenyon (1947); Flamingo Road (1949); The Damned Don't Cry (1950); Harriet Craig (1950); Goodbye, My Fancy (1951); and this Woman is Dangerous (1951) before leaving Warner Brothers in early 1952, often wearing the classic "big shoulder" suits of the era which many people associate with her style.

After leaving Warner Brothers, Joan went on to star in several films, including Sudden Fear (1952) for which she received an another Academy Award nomination (although she didn't win); Torch Song (1953); Johnny Guitar (1954); Female on the Beach (1955); Queen Bee (1955); Autumn Leaves (1956); The Story of Esther Costello (1957); The Best of Everything (1959); and What Ever Happened to Baby Jane (1962).

Joan also appeared on television variety and talk shows and in guest spots on dramatic tv shows over 100 times from 1953 to 1972.


Joan was married and divorced three times, to actor Douglas Fairbanks, Jr (1929); to actor Franchot Tone (1935); and to actor Philip Terry (1942).

In 1955, Joan married Pepsi Cola Chairman Alfred Steele and worked with him promoting Pepsi products. Joan was married to Alfred Steele until the time of his death in 1959. She was appointed to the Pepsi Board of Directors shortly after Mr. Steele's death and acted in that capacity for 14 years.

After Joan's death in May 1977, director George Cukor organized a memorial service in Beverly Hills on June 24. Mr. Cukor's read the following tribute to Joan:
"...She was the perfect image of the movie star, and, as such, largely the creation of her own indomitable will. She had, of course, very remarkable material to work with: a quick native intelligence, tremendous animal vitality, a lovely figure and, above all, her face, that extraordinary sculptural construction of lines and planes, finely chiseled like the mask of some classical divinity from fifth-century Greece. It caught the light superbly, so that you could photograph her from any angle, and the face moved beautifully....The nearer the camera, the more tender and yielding she became---her eyes glistening, her lips avid in ecstatic acceptance. The camera saw, I suspect, a side of her that no flesh-and-blood lover ever saw....I thought Joan Crawford would never die. Come to think of it, as long as celluloid holds together and the word Hollywood means anything to anyone, she never will."
Throughout her career Joan Crawford epitomized the glamorous Hollywood star who always dressed to perfection both onscreen and off, and was once quoted as saying:


"I never go outside unless I look like Joan Crawford the movie star. If you want to see the girl next door, go next door".
The sellers of Reflections of Vintage present the following vintage fashions and accessories which could have been worn by Joan herself.
Vintage 1940s Pink Tweed Town Suit Waist B36 W28 from
ALLEY CATS ATTIC:
Vintage 40s 50s Designer NARDIS OF DALLAS Deep Black 3D Hand Sequined Rayon Suit Blouse -- Bust - 34 -- Size XS - S from
CATSEYE VINTAGE: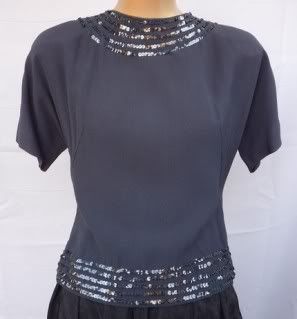 Vintage 1960s Silk Designer Sheath Dress Petite Small from
VINTAGE BAUBLES TOO:
Vintage 40s Variegated Blue Boucle Knit Hand Beaded and Embroidered with Prong Set Rhinestones -- Cardigan Sweater and Skirt Suit Ensemble -- Size Small or Medium. B 36 38 from
CATSEYE VINTAGE: