Although I now sell mostly vintage clothing and accessories, my first venture into online selling was in vintage home décor items, porcelain, depression glass, kitchenware, etc. Much of that was from my own collection, accumulated over decades. I still sell them on my sites, as I think that people who truly love vintage clothing and wear it regularly probably use or display such items in their homes. I remember a customer who purchased a dress along with a Fire King casserole, and recently, one who purchased a dress, a handbag, and a mid-century lamp. There have been other such purchases over the years; they make me smile, and think, "There's another 'one' like me!"

So, how did I get to be me? If we are products of our environments, then I am quintessential proof! I've always known that my love of antique and vintage items began with my mom, who furnished our home with antique and reproduction pieces, and things like early glassware; Japanese, Bavarian and Prussian porcelain; etc. But, last week as I was hunting for a picture of my dad for our Father's Day blog, I ran across some photos of homes I have lived in and owned over my lifetime. And I realized that the houses themselves have had a very great deal to do with my vintage passion. If you see my homes, you understand how I came to do what I do. I'm sure I'm not alone in this. Having sold real estate for some 25 years (now retired to focus on my vintage business), I can say that people generally end up in the houses that are meant to be theirs, and that reflect who they are.

Here, then, are the homes that have both influenced and reflected my tastes over my lifetime, and in some cases, are inextricably linked with who I am.

In the early 60s, my parents purchased this turn-of-the-century Queen Anne Victorian--but not as our residence. It was at the time a small nursing home. This was our family business for the next 20 years. My sister and I spent hours there, playing in the third-floor "tower room" and visiting with the elderly ladies who would tell us stories of their pasts. When I was older, I worked there summers and after school. And to this day, I still have some antiques that were in the home's old carriage house when we bought it.




In 1963, my parents bought this circa 1936 Cape Cod in order to be closer to the business. Coming from a 1954 ranch-style home, this was quite a change! But we all loved this home, with its charming archways, natural woodwork and hardwood floors, stone fireplace, etc. I grew up there, and it was hard for me when my folks sold both business and home to retire to Florida.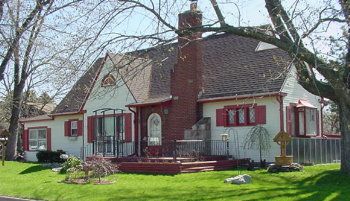 And this, my favorite home of all, special for so many reasons. It was the second home for my then-husband and I. We'd looked at so many houses; nothing was quite right. But this 1926 home was destined to be ours. While driving around on a Sunday checking out open houses, we saw an "Open" sign in a neighborhood we liked. We walked up the steps, through the vestibule, and into the center hall. I looked to my left at the living room, then to the right at the dining room. Then said to my ex, "I want this house." When we found that it was, surprisingly, right in our price range, I didn't need to see any more. But of course, we did, and by the time we finished going through it, we were looking for a phone so we could call our Realtor (this was before I had my license). The natural gumwood trim, leaded-glass windows and French doors, frosted-glass-front kitchen cabinets.... all were too good to be true. It was in nearly untouched original condition, but well kept. What was amazing was that the house had literally just been listed and the open house hadn't been scheduled. The seller's Realtor decided on a whim to hold it open. Our timing was perfect!

That home was my oasis of peace as I went through a traumatic divorce, change in jobs, financial difficulties, etc. It also held much joy as I discovered the satisfaction of being a competent single woman on my own; learned what a good, healthy relationship was; and met my current husband. We eventually moved on, but have never had another home like it.




Here is where we were married. A Georgian-style inn built in the early 1800s, it's listed on the national and state registers of historic places, and hosted, among other notables, Henry Ford, Thomas Edison, Eleanor Roosevelt, and Katherine Hepburn. There could not have been a more perfect place for us to marry. Our wedding was in January, and the inn was still decorated for Christmas. Red bows, wreaths, white lights, and garlands of greens set just the right mood. One of my friends who came to our wedding said to me, "This place is you." My husband and I, to this day, think we had the best wedding we have ever been to. And many of our friends say the same!




I believe that houses have "auras," and these are the homes whose good auras have stayed with me. There have been other homes over the years, including other "vintage" homes. But these have had significant roles in my life, and have, I'm sure, deepened my love of and appreciation for pieces from the past. We now live in a vintage 1971 traditional two-story, and love it--our favorite next to the "gumwood house." We're now happily changing our furnishing style from antiques and 1930s/40s pieces to mid-century modern and decorating with retro pieces. What fun!