Frank Sinatra, aka "Chairman of the Board" and "Old Blue Eyes" was one of the most popular singers in American history. As an actor, he appeared in fifty-eight films and won an Academy Award for his role in From Here to Eternity. His career started in the 1930s and continued into the 1990s.

Francis Albert Sinatra was born in Hoboken, New Jersey, on December 12, 1915, and died of a heart attack on May 14, 1998, in Los Angeles, California.


Sinatra dropped out of high school in 1934 and began to sing at small clubs trying to get the attention of the then popular "Swing Era" big bandleaders.

He began working with bandleader Harry James in 1939. His career skyrocketed when he joined Tommy Dorsey's band from 1940 to 1942.

Sinatra appeared in two movies while with Dorsey's band - Las Vegas Nights (1941) and Ship Ahoy (1942).

He began his solo career at the end of 1942 and became the Swing Era's (1935-1945) best-known vocalist.

Always a snappy dresser, Sinatra's wide-shouldered suits and his bow ties were imitated by many men.



During this time frame, Frank became a teen idol and was the first singer to attract the near hysterical attention of teenage girls.

In 1954 Sinatra appeared in the critically acclaimed film From Here to Eternity which won him an Academy Award for best supporting actor. He appeared in nine films in just two years, including Guys and Dolls (1955), Young At Heart (1955), The Tender Trap (1955), The Man With the Golden Arm (1955), and High Society 1956).

Sinatra was back on the record charts as well with "Young at Heart" and stayed on the charts steadily through 1967, recording albums around a central theme with a collection of songs or ballads.

From 1957 through 1966, Sinatra had twenty-seven Top Ten albums without producing one Top Ten single.



Sinatra's teenage fans were now adults - he had shifted smoothly to the role of the aging romantic bachelor which was signified by the image of him leaning alone against a lamppost with a raincoat slung over one shoulder.

Sinatra's hits in the 1960s included "It Was a Very Good Year" and "Strangers in the Night" (1966). He reached the top of the singles charts in a duet, "Somethin' Stupid," with his daughter Nancy in 1967.

Sinatra continued to act in several movies in the 1960s, including Ocean's 11 (1960), The Manchurian Candidate (1962), Robin and the Seven Hoods (1964), and Tony Rome (1967).

In the 60's, Sinatra also became known as part of a group of friends called the "Rat Pack." It included entertainers Dean Martin, Sammy Davis Jr., Joey Bishop, and Peter Lawford.



Sinatra briefly retired from 1971 through 1973, returning in 1974 with a renewed interest in older tunes. His return to the limelight was highlighted by his famous recording of "New York, New York" (1980) as he entered his sixth decade of entertaining.

In 1988 Sinatra, Sammy Davis Jr., and Dean Martin embarked on a cross-country tour. The tour lasted only one week. Sinatra later organized another reunion tour with Shirley MacLaine in 1992 and it was an undeniable success.

By 1994 Sinatra was experiencing memory lapses, but that did not keep him from performing publicly. He merely added the use of a prompter (device that shows the words of a song) to remind him of the lyrics. After celebrating his eightieth birthday at a public tribute, new packages of recordings were released and became instant best-sellers.

The audiences who grew up with him and his music were complemented by adoration from younger generations. They have all made "Old Blue Eyes" one of the most outstanding popular singers of the twentieth century.

Frank was married four times, to Nancy Barbato in 1939; to actress Ava Gardner in 1951; to actress Mia Farrow in 1966; and to Barbara Marx in 1976.


The Reflections of Vintage sellers network present the following vintage fedoras, jacket, and jewelry that Sinatra himself might have worn.
Vintage 1960s Men's Blue Sharkskin Dinner Jacket Tuxedo Size Large from
CATSEYE VINTAGE: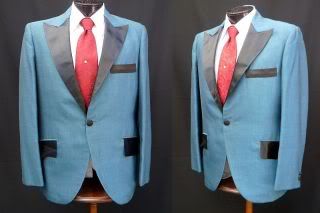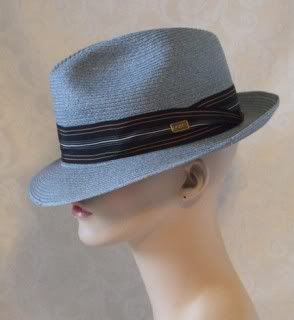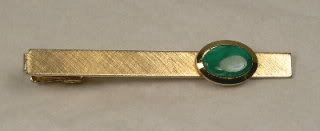 What Frank might have worn if he'd been on a bowling league ---- Vintage 60s Men's Embroidered King Louie Two Color Blue Rockabilly Bowling Shirt Size Large or Extra Large from
CATSEYE VINTAGE