Hollywood superstar Clark Gable was one of the first influential male style icons.

One mention of his name immediately brings to mind thoughts of the well-dressed Southern gentleman with slick black hair and a mustache that he portrayed in his famous role of Rhett Butler in the 1939 film Gone With The Wind.
However, Gable's first major contribution to men's style was in the 1934 film It Happened One Night, where he unbuttoned his dress shirt to reveal his bare chest, rather than the commonly worn undershirt. As a result, sales of men's undershirts fell at least 75%, according to some reports.

Additionally, Gable appeared in the 1953 African adventure film Mogambo wearing safari wear with epaulets & multiple pockets, a look which has remained in style since that time.
William Clark Gable was born in Cadiz, Ohio in 1901. He left school at age 14, working odd jobs until he married an ex-actress named Josephine Dillon in 1924 (she was 14 years his senior), who helped him train to become an actor.

They divorced in April 1930, and he married Maria Langham (17 years older than him) a year later and went to Hollywood with her in 1931.
Gable arrived in Hollywood at exactly the right time as the movies were looking for a new type of "man's man" actor, which Gable definitely was. He was signed by MGM and immediately starting making movies, starring several times with Joan Crawford and Jean Harlow from 1931 to 1933.
Around this time he grew his trademark mustache and often wore suits with broad shoulders to emphasize his manly build.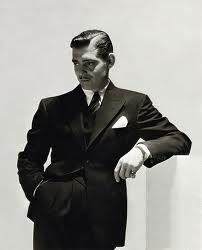 Gable fell in love with the beautiful actress Carole Lombard in 1936 and married her in 1939, after he starred in Gone with the Wind.

In 1941, Ms. Lombard and her mother were killed in a plane crash while she was on a World War II fund raising tour. To honor his wife, Gable joined the Army Air Corps, and although he returned to acting after the war, his devil may care air was gone.

Gable married Sylvia Ashley (the widow of Douglas Fairbanks) in 1949 and divorced her in 1952
.
In July 1955 he married Kathleen Williams Spreckles who gave birth to their son in March 1961.
Clark Gable died in November 1960, shortly after he finished filming his last movie, The Misfits, in which he starred with Marilyn Monroe. He was buried in the shrine he had built for Carol Lombard and her mother after they died.

He will never be forgotten, not only for his wonderful movies, but for his enduring influence on the world of men's fashion.
Here's a few special items from the Reflections of Vintage Group.