VINTAGE POST WAR II WEST GERMAN JEWELRY - 1949 to 1990
The German Empire originated in 1871 and was called Germany until the end of World War II. In 1949, it split into West and East Germany. East and West Germany reunited in October 1990, and became known as Germany again.
Accordingly it is easy to date costume jewelry marked "West Germany", " Made in West Germany", "W Germany", and Made in Western Germany" to the time frame between 1949 and 1990. Jewelry marked "Germany" is either pre-World War II or post 1990.
As the economy was decimated in post-World War II Germany, costume jewelry rapidly became a big industry, exporting gorgeous costume jewelry, bringing in much needed funds.
The German jewelry companies excelled in designing and producing beaded tiered bib style necklaces, which often came with matching clip on cluster earrings, brooches and bracelets.
They also produced lovely jewelry made of glass made to imitate precious gemstones or quartz.
Matching sets of filigree metal were designed and produced by hand which were similar to those of Miriam Haskell, Original by Robert, Stanley Hagler and De Mario.
Costume jewelry made in West Germany is becoming harder to find, particularly matched sets.
The Reflections of Vintage sellers network are pleased to present the following West German pieces currently available in their shops.
Vintage Post WWII 40s 50s Brushed Aluminum Filigree Leaves and Rhinestone Demi Parure -- Choker Necklace and Clip On Earrings -- Hand Made in West Germany - Mint on Card from
CATSEYE VINTAGE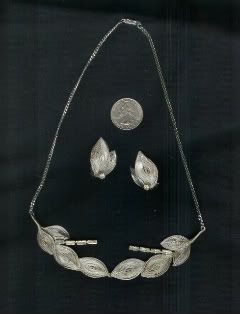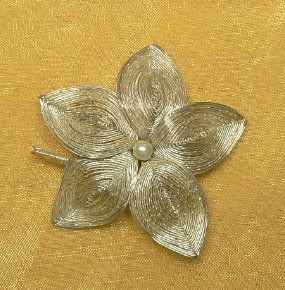 Previously Sold - Vintage 50s 60s Red Sugar Bead Tiered Bib Necklace from
CATSEYE VINTAGE